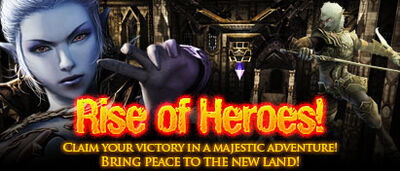 Explore the mysterious new island of Seron. Ghastly creatures lurk in the shadows. Team up with your allies to smite your enemies upon the war-torn fields of Seron Island. Navigate through the terrains, pass by the forests and brace yourself along the terra form chasms of Seron Island. Claim the new plains of Seron Island as yours! Immense Content Update Patch Note:1. Spicy Wardrobes Sale! (click here) *30% OFF on all permanent level 1 or 40 costumes! 2. Event Soul Stones! (click here) *Empower your gear with the Limited Time Event Soul Stones!
*Green Color Soul Stones = Gloves & Boots
*Blue Color Soul Stones = Torsos & Legs 3. New Level Cap (75)! 4. 3rd PK Armor and Weapon Set (75)! 5. Auto-Moving System! 6. New Instance Dungeon (70)! 7. Boss Monsters Improvement! 8. New Map: Seron Island! 9. Add Sorting Items & Guild Members Function! 10. Expand Players Views When Riding Holy Creatures! 11. Quest: Amend Berneo Quests Rewards & Context! 12. New Quest System that Recognizes Mission Monsters 13. Screenshot Saving Format (PNG to JPG)! 14. Show Crafting items on Craft Tooltip! 15. Level 74 Weapons & Armor! 16. Dismantle System for Unique Crafting Items 17. Change Marks for Buff Time 18. Function to View Players' Equipped Items 19. Add Repurchase Option for Sold Items 20. Add Alliance Chat Box 21. Add Function to Accept Quests Without Visiting Advancement NPCs! 22. Add AI Monster Summons & Self Destruction 23. Introducing New Accessories 24. Ending Easter Day Events 25. Function to View Players' Equipped Items! 26. User-Interface (UI) Relocation & Hotkey Update! 27. All Shout Chats are Combined from all maps!
28. Monster Transformation - Use the Chip of Transformation item!
29. Bear Mounts - Craft 3 exclusive bear mounts now!
30. Fix Bugs! 31. Game Text Update! 32. Rise of Heroes Videos (click here)
Ad blocker interference detected!
Wikia is a free-to-use site that makes money from advertising. We have a modified experience for viewers using ad blockers

Wikia is not accessible if you've made further modifications. Remove the custom ad blocker rule(s) and the page will load as expected.